2004-12-02
Emiloo's Favorite Things
Well, hello there. No, no, nothing has happened, it's just that SOMEONE won't get off my ass about writing in this boring, godforsaken little diary, so here I am.
Merry Christmas.
Speaking of Christmas, I'm going to copy Amblus and make a big list of all of the impossible things I want for Christmas. As you will see, I am a selfish, materialistic whore. But it's not like I'm actually expecting to get any of this. Like my buddy told me, it will be like Oprah's Favorite Things episode, except no one gets anything. Fun. Or not. Either way, my list (a draft. Things can--and most definitely will--be added.)
-an iPod (I'll take the 40-gig one, please)

-
KitchenAid stand mixer
. For the seven times a year that I actually bake. But, so pretty. And shiny. And so many colors. Wah.
-Alias Season 3 on DVD. Uh, this has been out since around my birthday. Someone isn't paying very good attention. Ahem.
-The Rabbit. The corkscrew, not the vibrator! Get your mind out of the gutter.
-Giant-ass 80-gallon water heater, so I don't have to take such short showers. Man, nothing gets my day off to a great start like jumping under the hot shower, then turning it off as soon as I get my conditioner applied, then standing there shivering like Donnie Wahlberg in The Sixth Sense while I soap up in the freezing cast-iron tub, then turning the water back on, only to have it get cold before I finish rinsing off the soap suds. Good morning, indeed. Am I at the day spa or in my bathroom?
-Roomba! (me too, Adrien) I don't have carpet anymore, but I do have dust bunnies hiding everywhere, and I would enjoy watching Mitch run away from the robot vacuum.
-new floors and countertops for my kitchen
-to have our lovely dishwasher (currently residing on a smushed box in my basement) installed in the actual mothereffing kitchen
-to begin our attic/upstairs renovation. Somehow I don't expect to find these last three things when I wake up on Christmas morning. But a girl can dream.
-Philosphy Amazing Grace products, because I likes the smell good stuff.
-lots of new cookbooks
-a flat-screen monitor for my ancient computer. Seriously, my monitor is bigger than my freaking microwave. And it doesn't even make popcorn.
-a vintage rotary-dial phone (not from the 80s, more like the 40s, and not a damned Pottery Barn reproduction with buttons.)
-a deck on the back of my house. See floors, dishwasher, and attic renovation.
-Direct TV with TiVo. This one might actually happen. That's because my husband wants it, too. Whatever, as long as I get BBC America, it's cool.
-a Netflix subscription. I feel silly for wanting this, since I get movies for free from the library, but sometimes you want to watch a movie and not wait seven months for it, you know?
-Sirius or XM radio, mostly (and this is sad) for the biography channels, the three NPR feeds (!), and for Al Franken's show. I'm so old and uncool that I don't even care about the rock 'n' roll.
-fancy jeans. Sigh. I need some sort of butt-lifting magic. Why does the magic have to cost $175?
-everything in the Anthropologie catalog (including the wallpaper and the silly dog sweaters. Hell, especially the dog sweaters. This one is my absolute favorite.)
Speaking of cute dogs, how about some gratuitous Mitch photos? Okay then.
I've been recovering a chair for my boss, and I left a big roll of batting in my dining room floor. Mitch has decided that the batting is his best friend and personal lounge, and now I'm afraid to ever put it away.
This one looks like he's been beaten down and defeated by the world, and he escapes to the batting when it's all too much to bear: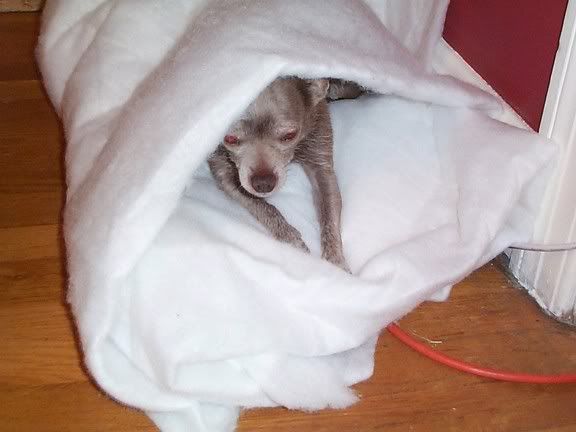 And in this one, he emerges from the batting with a renewed sense of optimism: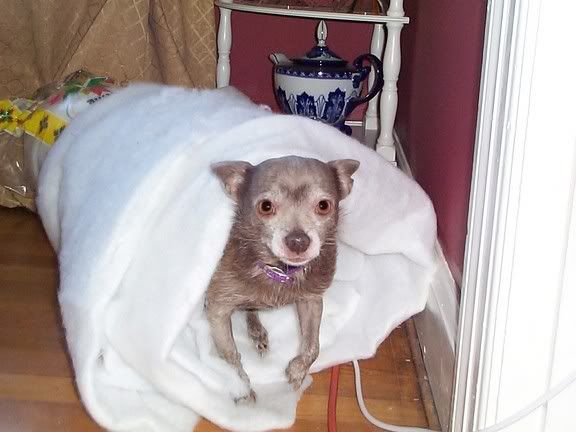 And Seth and I like to call this next one, "Well hello there. I didn't realize anyone was here. Won't you join me?" Don't judge us, man. We give our dog imaginary dialogue that sounds like Christopher Walken's "The Continental" skit on SNL. Yeah, so?